Best Marvel Movies
What's up everyone welcome back to my hobbies and leisure blog! I have had this post in the works for a long time and decided to finally put it out! You may remember my love of anything super hero from my Batman game post, so it shouldn't surprise anyone that I have seen all of the Marvel movies that have been coming out lately. I only recently saw Logan so I am finally caught up, and thought that I would give you loyal readers my picks for the top 3 Marvel movies. I am only going to include ones released since Ironman, and will most likely only list ones that can be bought on DVD. I had to go to http://www.for-sale.ie/ so that I could rewatch all of these, so if your favourite hasn't been released on Blu-Ray then it might not be here.
Deadpool
My number one is obviously Deadpool. I have been a fan of Deadpool ever since playing as him in a Xbox 360 Marvel game so the fact that he finally has his own movie (and it is amazing) is just awesome. Ryan Reynolds delivered an amazing performance, and I love how they got a big budget 'dreamboat' actor who spent most of the film masked or with a messed up face. I found a used director copy of the Deadpool movie on http://www.for-sale.ie/deadpool which has some crazy extra footage, if you can grab one check it out! And any comic book fans should be sure to read the Deadpool kills everyone storyline, probably the best comic of the past 25 years.
Punisher
The Punisher is one of the greatest superhero movies ever. I am talking about the one made in 2004, the other ones don't exist in my opinion. Thomas Jane was the perfect Punisher, and the only way they will be able to have another good Punisher movie is with him in it. Until then, I will be entertaining myself by reading some of the used Punisher Comics that I found online at http://www.for-sale.ie/punisher-comics and if you need a good punisher fix, then check that link out. There is also as short film (like 8 minutes) directed by the same director that captures that Punisher feel, you can find it on youtube if you look.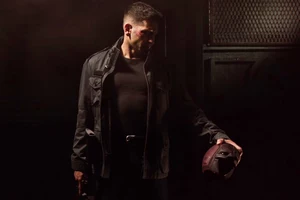 Logan
Woah! I said I wasn't gonna mention any films that are still in theatre, but here it is! I was catching a movie with some friends the other day (on of my favourite hobbies) and we saw this crazy movie. It's hard to believe that Hugh Jackman is almost 50, especially when you see him take on 1 dozen soldiers without breaking a sweat. For a long time Wolverine has deserved a good background movie, and finally Logan delivers. I can't wait for this movie to get released on Blu-Ray to see all the cool extra features!